The Potential for a Taylor Swift Collaboration With Drake Is at an All-Time High
Will we see a Taylor Swift and Drake collaboration any time soon? The singers teased fans with a throwback image that has some speculating about a new track.
If there are two undeniably unique juggernauts in modern music, Drake and Taylor Swift definitely fit the bill. Wholly in their own lanes but intertwined in the realm of mega-stardom, Taylor and Drake are some of the biggest artists of the 21st century. Taylor's constant drifting between country bangers, pop classics, and soulful melodies has made her one of the biggest stars of all time, and Drake's Goliath status in hip-hop has him rubbing shoulders with the genre's most impactful names.
Article continues below advertisement
It goes without saying that Taylor and Drake have both individually worked with some pretty famous acts in the past, and fans are always excited to see each of their talents team up with another shining star. But what about working with one another? A recent post on Drake's Instagram may be teasing a collaboration. Let's take a look at what we know.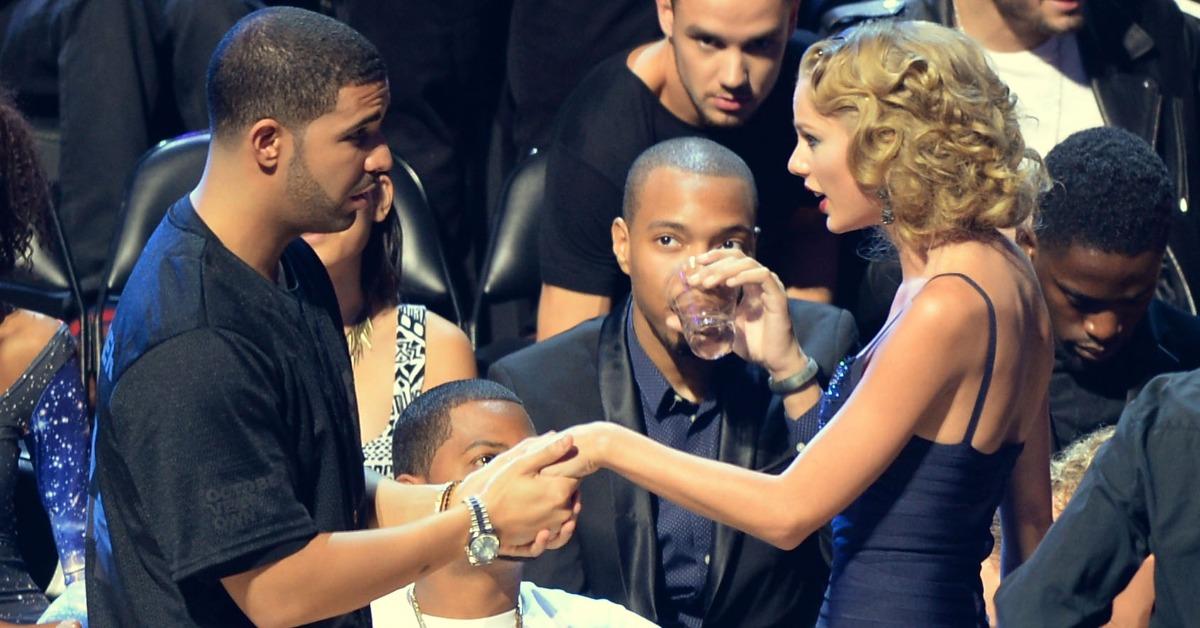 Article continues below advertisement
Sound the alarms! Drake may have just teased a collaboration with Taylor Swift on Instagram.
Taking to Instagram in the late hours of April 18, 2022, Drake posted a slideshow of throwback images on his page. Amongst flicks of himself and his son, Adonis, Drake shared a picture of him and Taylor embracing, causing fans to immediately speculate about what it could mean.
"They too soft to understand the meaning of hard work [sic]," he captioned the cryptic post.
One of the first things that fans began wondering is if Taylor and Drake were romantically involved with one another. That's far from the case as the former reportedly got engaged to Joe Alwyn after being in a relationship for years. When we remove the possibility that things are steamy between the duo, the oddly-placed snap leads fans to only one other train of thought: a potential collaboration.
Article continues below advertisement
While Drake and Taylor largely rose to prominence around the same time as one another, the two have never officially worked together. It has been evident over the years through their pleasant interactions at award shows and the likes that they're on good terms, but this is the biggest hint yet that the two might have been in the studio together.
Article continues below advertisement
Neither Drake nor Taylor has confirmed that anything is in the works, but that hasn't stopped fans from getting excited about the possibility.
"The world needs a Drake and Taylor Swift song at this point," tweeted on fan who was clearly excited about the image.
"Drake wouldn't randomly post a photo with Taylor Swift just like that ... Looks like the collaboration is really coming," chimed in another user, convinced that the flick meant new music is on the way.
Internet sleuths even went as far as discovering that the last time Drake posted an image with Taylor was around the time that she released her 2014 album "1989." Due to this, some are suspecting that Drake will feature in Taylor's impending re-recording of the project.
"He posted this as the 5th photo, and "1989" is her 5th album, and she has a "1989"-era haircut!" wrote one user, convinced that the overlaps between the past and present posts indicate a hidden message from the artists.
Even though Drake and Taylor haven't said anything about working together, it's clear that both of their fan bases are clamoring for it.