San Francisco Giants Not Inviting Aubrey Huff to 10 Year World Series Anniversary Party for Comments He Made
Aubrey Huff was a pivotal player on the Giants 2010 World Series team, but his comments have forced the Giants to distance themselves.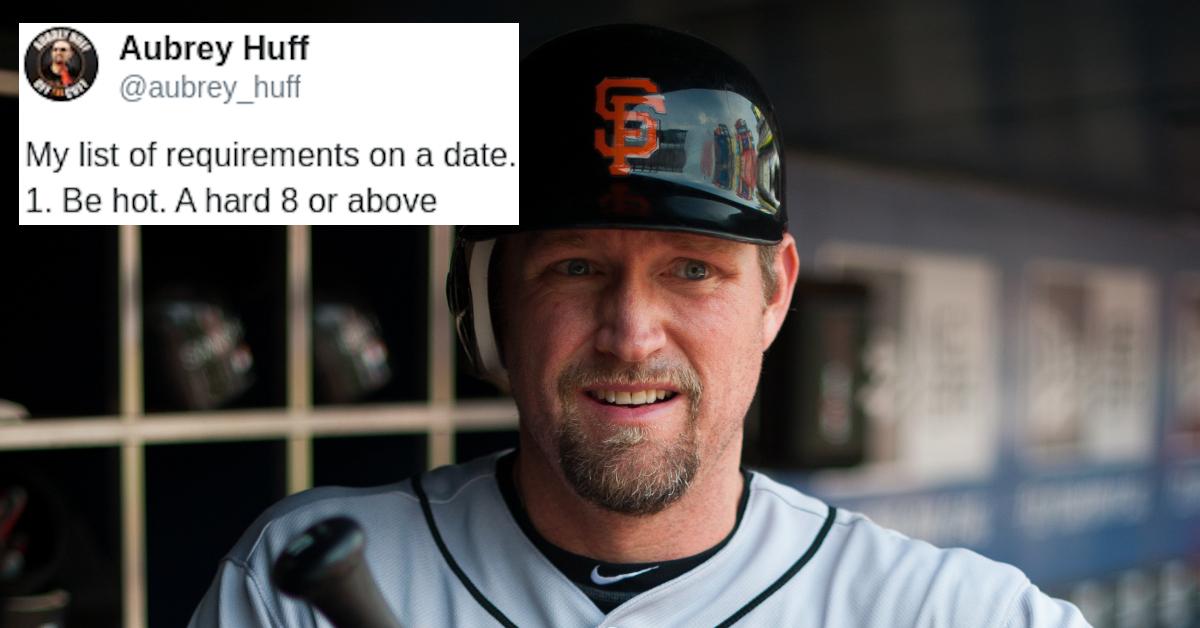 Nothing on the internet is ever truly deleted. Not that regrettable night-out selfie you directly uploaded to Facebook 9 tequila shots deep. Not that passive aggressive, intentionally "vague" status update obviously geared towards your ex. Definitely not the terrible Sonic the Hedgehog drawings you uploaded to DeviantArt for "constructive criticism", either.
Unfortunately for Aubrey Huff, neither are social media comments, specifically ones he made that irked his former baseball team, the Giants.
Article continues below advertisement
In 2010, the San Francisco Giants earned themselves the highest honor in baseball by capturing the World Series title. Aubrey Huff was an integral part of that victory. As a first baseman and outfielder, the player's contributions to the Giants were not insignificant: with an OPS of .957 in the series' five games against the Rangers, 26 home runs out of 157 games in the regular season, Aubrey was the real deal.
So when the Giants' 10-year World Series anniversary party was planned, it went without saying that he would be present. However, the Giants announced that their former key player was not only not issued an invitation to the festivities, but that he was not welcome. Steve Berman and Dan Brown from The Athletic reported on the statement made by the San Francisco franchise:
Article continues below advertisement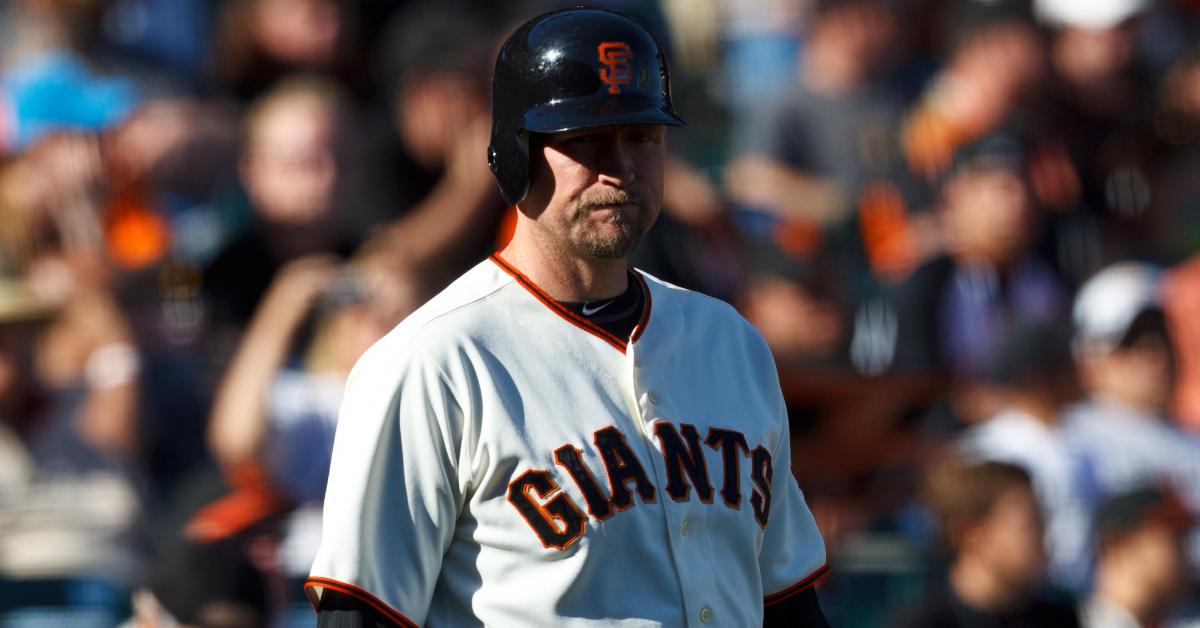 "Earlier this month, we reached out to Aubrey Huff to let him know that he will not be included in the upcoming 2010 World Series championship reunion. Aubrey has made multiple comments on social media that are unacceptable and run counter to the values of our organization. While we appreciate the many contributions that Aubrey made to the 2010 championship season, we stand by our decision."
Article continues below advertisement
What possible comments could Aubrey Huff have made to get him banned?
The 43-year-old took to Twitter to tell his side of the story regarding the situation. According to the World Series winner, he said that the expression of his political views, which includes support for President Donald Trump, is what got his invitation withheld from the Giants, as per a conversation he had with Giants CEO Larry Baer.
"Three weeks ago I had a call with Larry Baer CEO of the San Francisco Giants," he wrote.
Article continues below advertisement
"He took me by surprise when he told me I was unanimously voted against attending the 2010 Giants World Series Championship reunion. When I asked why I wasn't invited he told that the board didn't approve of my Twitter posts, and my political support of Donald Trump. My locker room humor on Twitter is meant to be satirical, and sarcastic. And it was that type of humor that loosened up the clubhouse in 2010 for our charge at a World Series title."
"They loved it then, and it hasn't changed. That's not the issue. It's politics. I find this whole thing very hypocritical coming from a man who has had his share of real controversy for pushing his wife for which he had to take a break from the Giants and issue a formal apology. All I did was tweet."
Article continues below advertisement
The Giants spoke again with The Athletic, stating that Aubrey's political views have nothing to do with why they aren't inviting him to the celebration and it instead has everything to do with what they view as "misogyny" and "common decency". Those seem like pretty harsh words, but when you consider the blowback from many of Aubrey's recent tweets, it's easier to understand the Giants' position.
Article continues below advertisement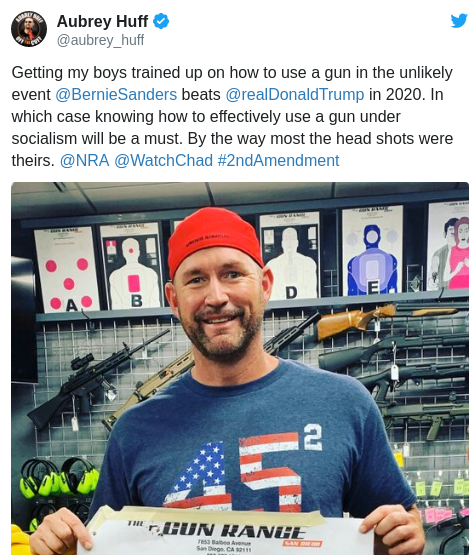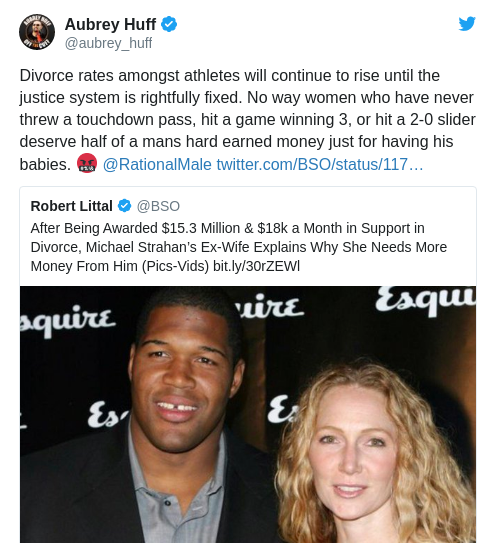 Article continues below advertisement
While Aubrey certainly put out his fair share of political tweets, like talking about training his children how to use firearms in case Bernie Sanders wins the 2020 election to protect our country from "socialism", he also made some statements about how the "justice system" unfairly awards women money in alimony after divorce.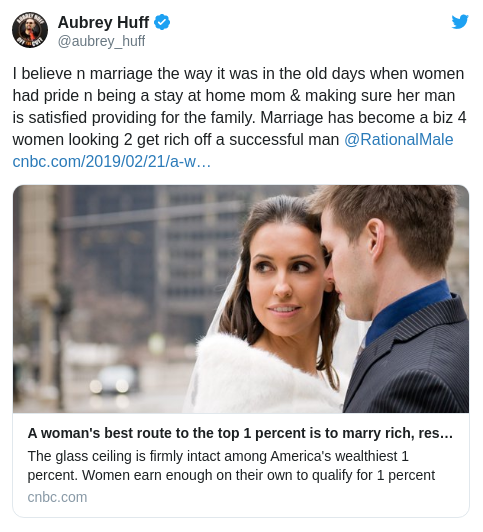 Article continues below advertisement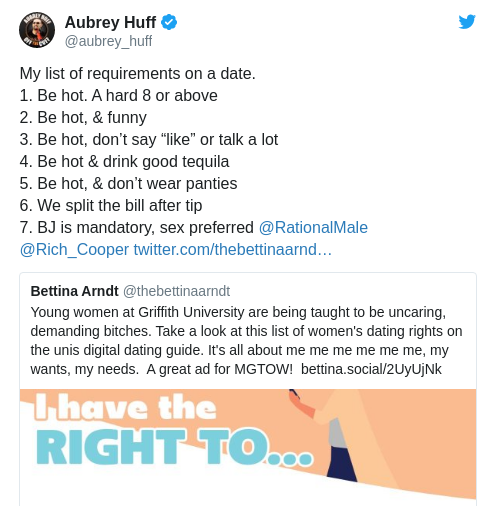 Then he said that he missed the good old days when women knew their rightful place was staying at home and taking care of her family. He later tweeted what his list of requirements for a date were and they reeked of frat boy "wisdom".
Article continues below advertisement
Then there was the tweet he deleted about kidnapping women from Iran who would be so grateful to leave the country that they'd feed him "grapes, amongst other things..."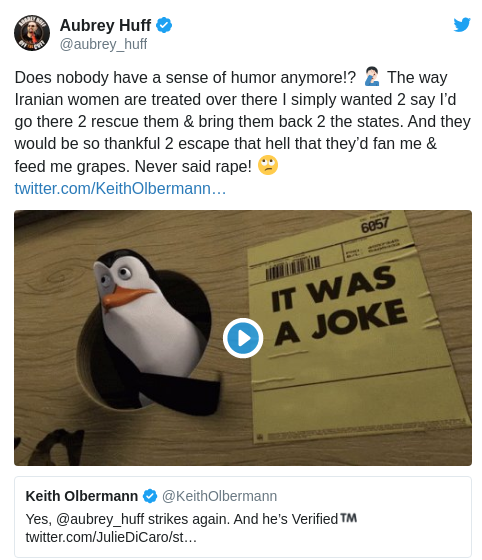 What do you think of Aubrey's tweets? Is he too outspoken for his own good? Were the Giants right for not inviting him to the anniversary party? Or has he done it to himself?