Wife's Husband Wakes Her up in the Middle of the Night With a Heartbreaking Request
When a woman went on Reddit to ask for some relationship advice because her husband had a bizarre request, people immediately began feeling for her.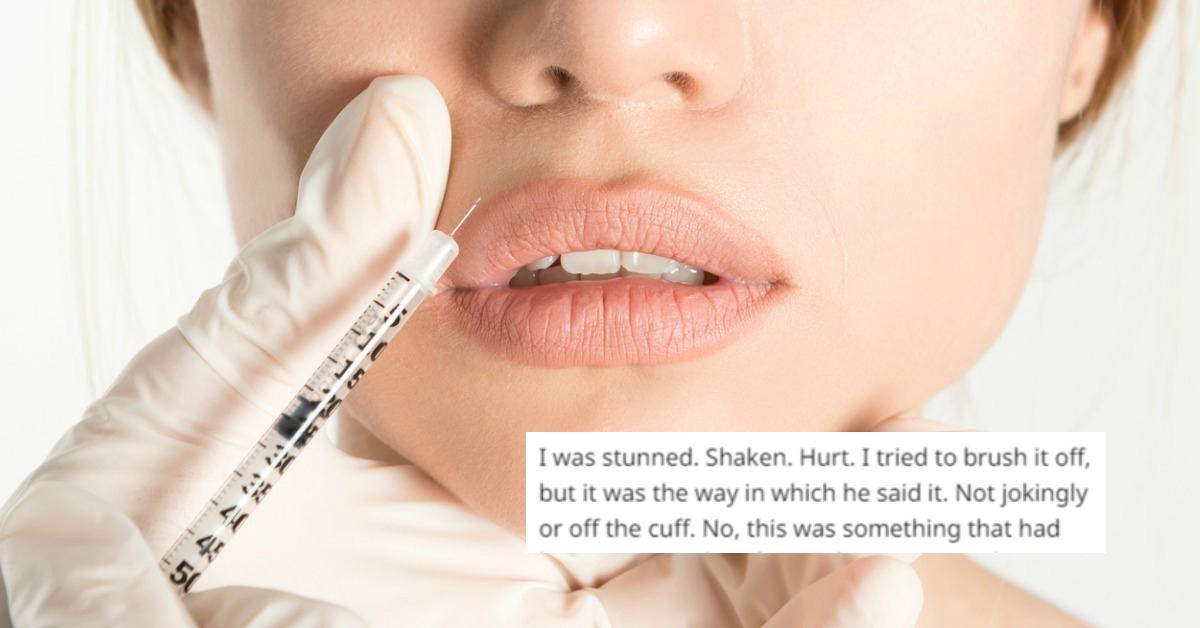 A woman's post to reddit's RelationshipAdvice forum is leaving a lot of people angry and sad.
I am ashamed to admit that there's a certain amount of fascination I have in reading about other people's relationship woes online, and this particular subreddit is a treasure trove of examples that make me appreciate my own existence a heck of a lot more.
Article continues below advertisement
Yes, it's a shameful thing to admit, but usually whenever someone's drumming up the courage to post online about their relationship in the hopes of getting some advice from a bunch of strangers, they're at their wit's end and grasping at straws
Some people, you can't but help but feeling that they deserve the misery they're currently experiencing in their relationship. Like of course if your partner won't let you look at their phone and is judgmental of everything you do, they're definitely hiding something and are unhappy with who you are as a person. So end whatever it is the two of you have.
Or you have people who are clearly leaving out parts of the story so they paint themselves in a better light and after a few questions from reddit users it becomes clear that they have problems of their own.
But then are some cases that are downright tragic, like this one reddit user who created a throwaway account and shared a deeply personal experience from her relationship involving her new husband's absolute disdain for her face.
Her story starts out like any bad marriage tale: early on in their matrimonial life, she noticed that things weren't going so well and that there was something haunting her hubby.
Article continues below advertisement
As it turns out, the "grey cloud" hanging over their marriage was the fact that her husband was so bothered by her wrinkles, that he woke her up in the middle of the night, crying, and basically begging her to get the procedure done.
Article continues below advertisement
I'm going to go out on a limb and say that if you really love someone, you wouldn't let something as tiny as a few wrinkles bother you. There's obviously other problems in their relationship that need to be ironed out that aren't related to the lines on her face.
Naturally, she was hurt and stunned by her husband's admission.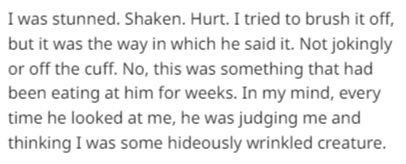 Article continues below advertisement
They tried to do their best to get past it, but she couldn't get over the fact that he basically told her that he didn't find her attractive. So much so that he wanted her to chemically alter her face.
To interject here because who am I kidding, I love interjecting — who is attracted to a Botox face anyway? There's something unnatural and scary about the way they move, or rather, don't move. I'd much rather deal with some wrinkles than plastic.
But once you open Pandora's box, there's no way you can close it. Which proved all too true when he "jokingly" tried to bring up the topic of Botox again.
And just when you thought this story couldn't get any worse, her dude manages to go and say something that's pretty much unforgivable.
Article continues below advertisement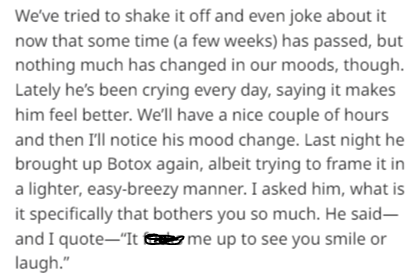 The man tells his wife that he cannot stand to watch her smile. She admits that she can't help but feeling unattractive because the person she married basically told her that he is unable to enjoy seeing her happy. This is next level horror stuff right here. Someone call Tamia, because there's a stranger in this woman's house.
Article continues below advertisement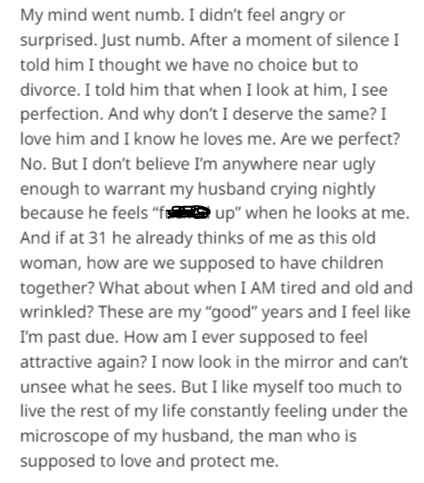 Ultimately, she told him that she thought it was best to call it quits, which I think is the right move. What's the dude going to do/say once she gets older, as this woman pointed out? The worst part is that she sees her husband and she sees "perfection," and if that doesn't tug at your heartstrings, then you're probably her husband who's reading this.
Article continues below advertisement
She ended her sad story by asking people if she thought there was any way to repair their relationship past this point.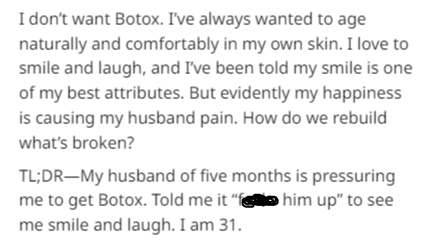 Article continues below advertisement
Many of them said that the guy is insane and that he suffers from a severe personality disorder and that she made a "critical mistake" in marrying this man.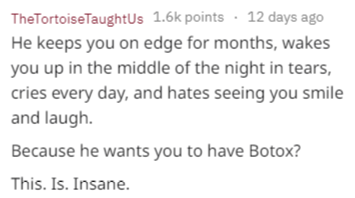 Article continues below advertisement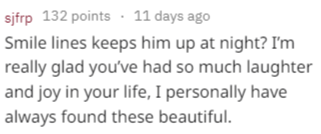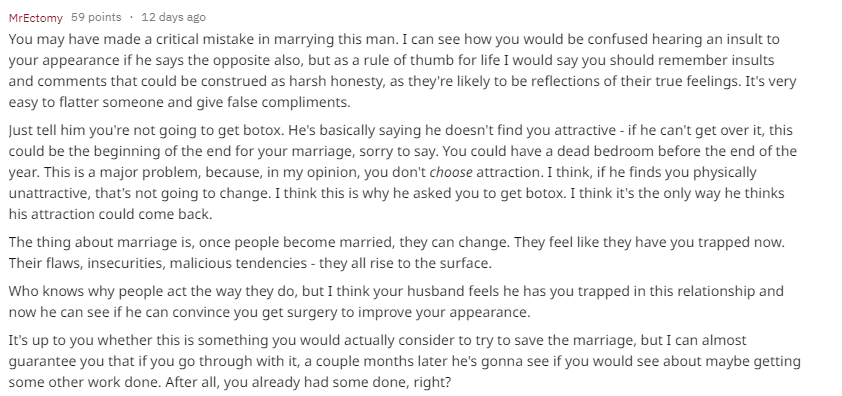 Article continues below advertisement
Some saw things a bit differently and said that it was a personality or mental disorder that could be fixed. One person shared their own story of someone who was having a quarter life crisis about aging and that it's a natural worry to have, but entertaining the idea seriously is problematic, to say the least.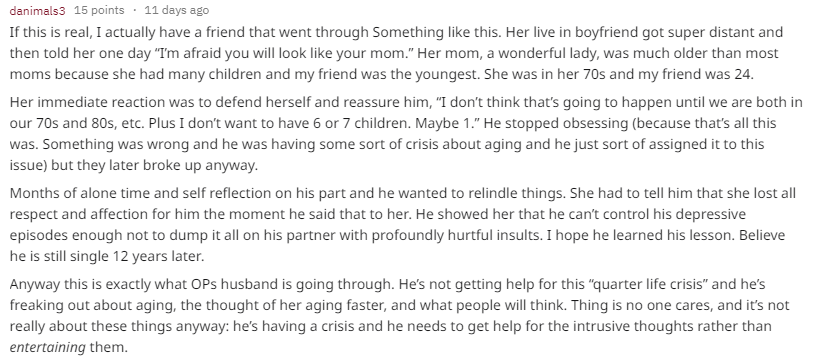 What do you think? Can the relationship be salvaged at this point? Or is this dude just going to get worse and worse? I understand if it's a mild bout of depression or worry for the future, but this has been going on for several months. Either this person is seriously ill and needs to get help, or they're looking for a way out of the relationship, and the wrinkles are an excuse.