Woman Tries to Accuse Amazon Driver of Stealing Her Package, TikTok Came to His Defense
A TikTok user accused an Amazon delivery driver of stealing her package, but throngs of other users on the platform think she's full of it.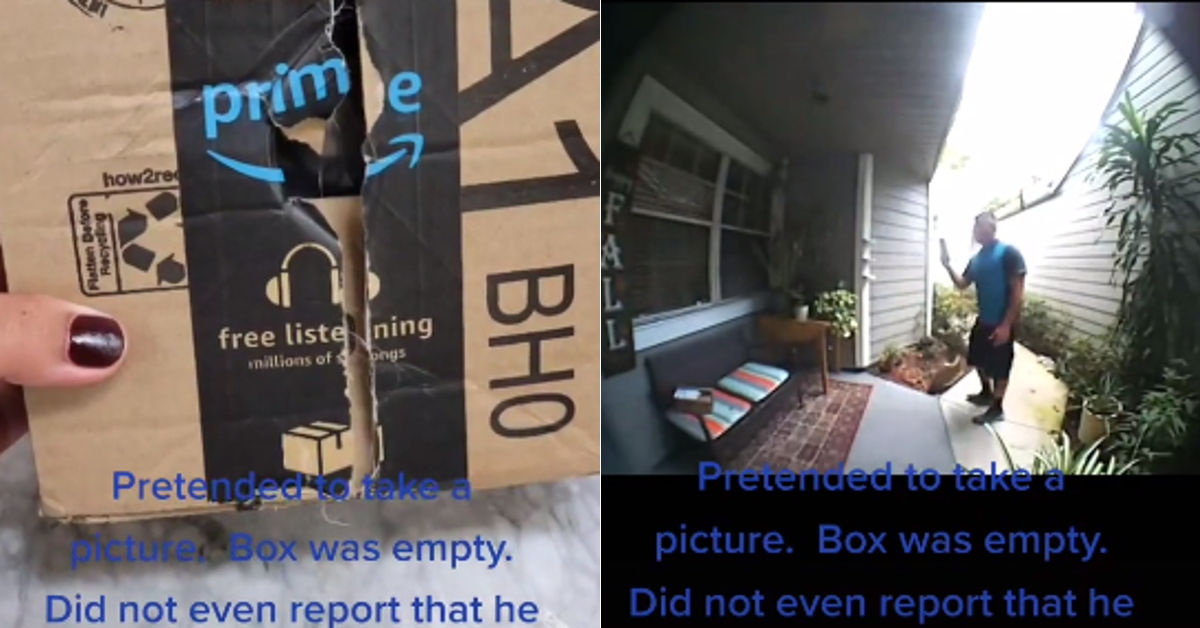 Millions of Americans rely on Amazon for a huge bulk of their shopping needs. In fact, the online retailing giant has over 148 million prime members who now pay $14.99 a month for the privilege of having free 2-day shipping for tons of different items.
With such a massive operation, there are bound to be some hiccups here and there, and the company is usually quick to address that, especially for Prime members.
Article continues below advertisement
But there are such things as porch pirates: people who go out of their way in order to pilfer packages right in front of someone's home. And unfortunately, there are instances of Amazon employees being caught stealing the orders that they deliver: like this one Atlanta woman who recorded a driver taking a photo of a package and then bringing it back to their car.
TikToker @katherineruix is now alleging that she is also a victim of an Amazon driver stealing her package in a now-viral clip. However, there are many users on the platform who are calling shenanigans.
Article continues below advertisement
In the video, her doorbell camera picks up the driver leaving the package at her house, snapping a photo, and walking away. A routine delivery, nothing out of the ordinary.
Article continues below advertisement

However, the clip begins with a video of the box, which has a hole in it, where she alleges that the delivery driver "staged" the delivery, but sneakily took the item from the box.
Article continues below advertisement

However, there are tons of TikTok users who are defending the Amazon driver and are accusing OP of making the video for clout. Some even called her a "Karen."
Article continues below advertisement

Many eagle-eyed viewers say that the box is clearly unopened and not tampered with as it was being dropped off. Others stated that she opened the box herself and was probably just trying to get two of the same item for free.
Article continues below advertisement

Then there were TikTokers who said that if the Amazon delivery driver wanted to steal the package there were other ways he could've done it. Like mark the package as "missing" on his employee app. Plus there were people who said that the way the box moved clearly shows there's something inside of it, as an empty box would move much differently when he dropped it off.
Article continues below advertisement

To defend herself, Katherine uploaded a video that showed several still images of her bringing the package inside, however, people were still dubious and wondered why she only uploaded stagnant images instead of video of her picking up the Amazon delivery.
Article continues below advertisement

While there were some TikTokers who believed Katherine, there were many who kept defending the Amazon employee.
What do you think? Is Katherine just trying to finesse Amazon and was trying to get some TikTok views out of the entire ordeal? Or is she telling the truth? Have you ever had an experience like this?