Woman Gets Revenge on Tinder Match Who Called Her a Catfish by Figuring Out His Real Height
After this woman was called a "catfish" by a Tinder match, she decided to find out if he was a catfish himself.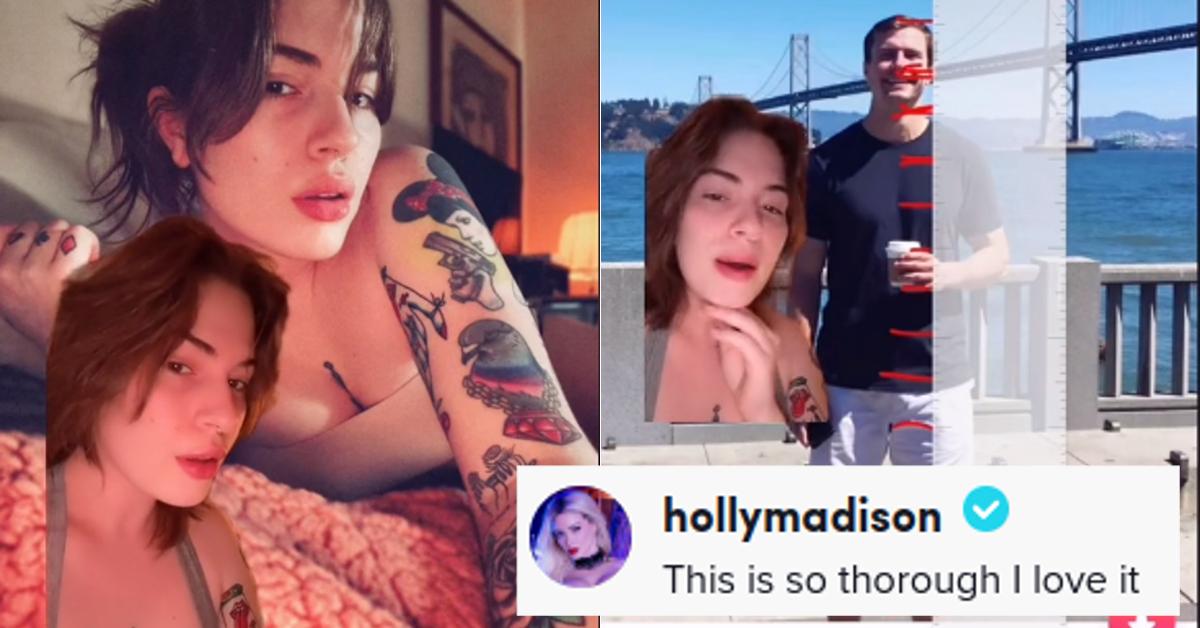 When it comes to romance, there is a slew of different physical traits and characteristics that many people find desirable. While beauty is in the eye of the beholder and different folks have different preferences, there are some physical qualities that are nearly universally desired by folks.
Article continues below advertisement
You'll hear tons of guys say that they usually prefer that their partner has a big ole' booty and full lips. And it's a constant point of contention and ire on the internet that there seems to be a large population of heterosexual women who absolutely adore tall guys.
There are several instances of "clap backs" against women who will go so far as to make posts and put in their bio that they won't even bother speaking to men who aren't at least six feet tall or more. And there are some dudes who were born slightly taller than average who know that this works to their advantage when it comes to the dating game and they are perceived as more "desirable" partners, at least at first glance, as a result.
Article continues below advertisement
Which is the kind of guy that Paris, who posts on TikTok under the handle @stopitparis believes she ran into while swiping through the application. She matched with a guy named Will whose entire Tinder bio just lists his height as 6'1" and that he works as an investor doing some type of finance work or another.
Article continues below advertisement

Paris says that Will's initial message to her comprised of one word: "catfish" meaning that she is uploading photos of herself that make her appear to be more attractive in photographs than she is in real life.
Article continues below advertisement

She didn't take too kindly to being called a catfish, especially because she says that she uploaded a photo of herself where she isn't wearing any makeup and even recreated the pose via the greenscreen option on TikTok to demonstrate that she is not, indeed, a catfish.
Article continues below advertisement

One may argue that perhaps, in Will's mind, calling Paris a catfish was a kind of compliment. That he was maybe insinuating she was/is too beautiful in her photographs to be real.
Article continues below advertisement

However, Paris didn't like the fact that Will was either outright calling her profile fake or attempting to "neg" her, so she decided to see if this man was being a catfish himself.
She took the only bit of data available on his profile: his height.
Article continues below advertisement

Through a series of guesstimations and using measurements and relative objects, along with the distance he was from particular structures he took photographs in front of, she determined that his height most probably was not 6'1", but 5'10".
Article continues below advertisement

Which, coincidentally is the same height as she is. Paris says that after around 10 hours of her posting the now-viral TikTok, Will ultimately unmatched her.
Several TikTokers applauded Paris not for "shaming [Will] about his height, just for lying about it" while others thought that the man looked way older than 28 years old, so they speculated he may have been lying about his age as well.
Article continues below advertisement

What do you think? Are you a math nerd and think that Paris' measurements check out? Was it rude of Will to straight up call her a catfish? Have you been catfished in the past?