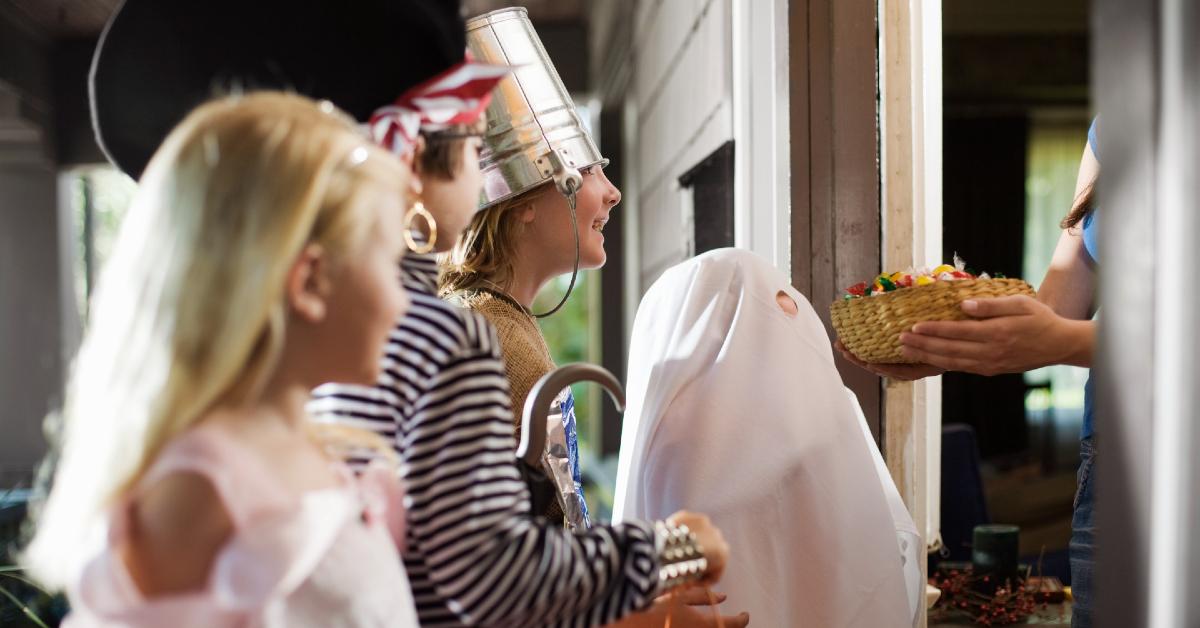 Trick-Or-Treater Puts Her Own Candy in House's Empty Bowl So Other Kids Could Have Some
A homeowner's doorbell camera captured a wholesome trick-or-treater noticing that they were out of candy, so they decided to dump some in.
A universal truth when it comes to human beings is that they will almost always reveal their true nature when they think no one else is watching. While some people will give in to their basest, most selfish desires, others will act with a spirit of giving and kindness.
Article continues below advertisement
One such test of character that folks are introduced to at early stages of their lives is the Halloween candy honor bowl. This occures when folks who either can't answer the door or don't feel doing so will place a bowl of candy outside their front door.
Article continues below advertisement
There's an understanding that you're only supposed to take your fair share of candy: a piece or two. Maybe there's even a sign indicating what each individual's limit is.
However, there are always folks who go and snatch more than they should, leaving the bowls prematurely empty. However, a viral video on TikTok reveals one kid who decided to make sure other kids weren't left out in the cold upon visiting a home that ran out of candy.
TikToker Ashli Saballos checked her doorbell camera and saw two kids walk to the front of her home. One child appeared to be a young boy around 5 or 6 years old, accompanied by an older sister. When the kids approach the bowl, they see that it's empty, so the younger sister decides to reach into her treat bag and transfers some of the candy to the empty bowl in front of Ashli's house.
Article continues below advertisement

The young boy asks her what she's doing, "Are you putting candy back?"
"No, I'm giving some. All right, let's go."
They begin to walk away, but then the child asks, "What about me?"
She then tells him he's allowed to take one piece and then they go back to trick-or-treating.
Article continues below advertisement

TikTokers were stunned by the young girl's heartwarming gesture.
"Find that girl and give her something special for being so kind," said one.
"The way she didn't even hesitate to do it, and then put even more in from her second bag," another remarked.
Article continues below advertisement

Ashli remarked in the comment section of her TikTok that the act was "so selfless," and others urged folks online to try and find out who the girl is to give her recognition for her altruism.
Article continues below advertisement

"What a sweet girl! She def needs to be recognized for being A GOOD PERSON which is obviously hard to find these days," wrote a commenter.
Other TikTokers mentioned that it was the first video on the platform featuring doorbell camera footage that didn't show kids hogging all of the candy for themselves.
Article continues below advertisement

"She's the only one I've seen on here today that wasn't taking all the candy out of a bowl. I hope she gets tons of attention for this," said one person.
"Kudos to her and her parents," said another. "Her brother will learn from this as well. Faith in humanity restored."
Article continues below advertisement

"She is doing the Trick or treat for her brother. Obviously she doesn't eat the candy and [finds] joy in giving, like she's giving time spent with her bro," observed someone.
Article continues below advertisement

Ashli says that she posted the video to her community's Facebook page and was able to find out who the little girl was. As a thank you to show the young girl how "special and thoughtful" she was, the homeowner put together a gift basket for the kind trick-or-treater.
Article continues below advertisement
She even got the footage of her trying to hand the young girl the gift basket. She initially demurred but ultimately accepted the thank you present.