Teen Mom OG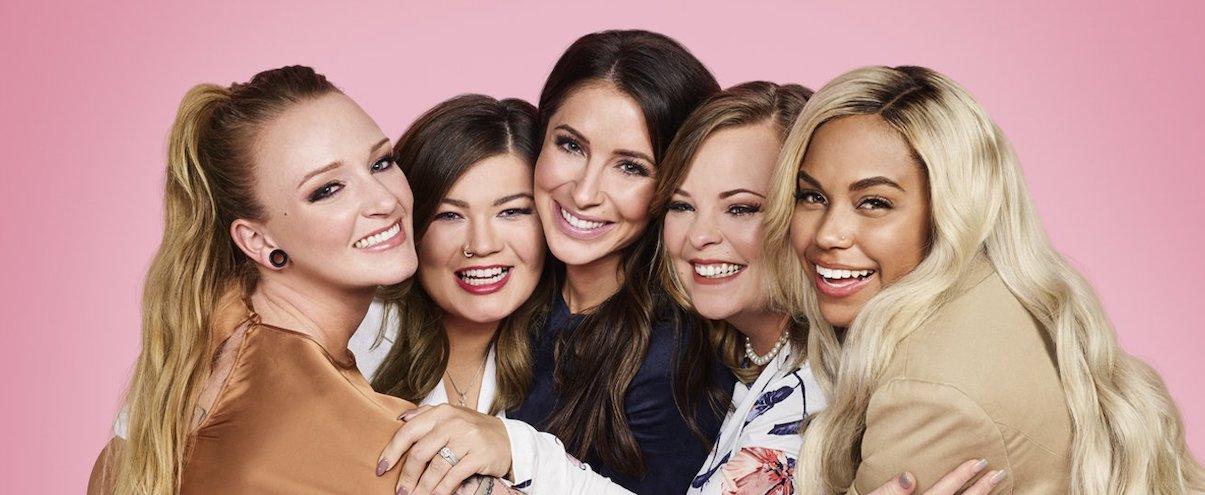 Following the success of 16 and Pregnant, MTV decided to continue following the lives of several young mothers, ultimately creating the pop culture phenomenon known as Teen Mom in 2009.
Teen Mom has been since renamed Teen Mom OG, and has led to the development of several spinoffs including Teen Mom 2, Teen Mom 3, and Teen Mom: Young and Pregnant. While the stars of the reality series are no longer "teens," fans are dedicated to this group of women struggling to navigate motherhood, strained family relationships, and marriage at a still relatively young age.
It makes you forget MTV was once a network for music videos...
Teen Mom OG cast:
Farrah Abraham (Season 1-7) — Farrah welcomed daughter Sophia in 2009, just two months after her boyfriend was killed in a car accident. She was fired from the MTV series in 2017.
Maci Bookout (Season 1- ) — When we first met Maci, she was expecting son Bentley with boyfriend Ryan Edwards. Today, she is a mother-of-three and married to Taylor McKinney.
Catelynn Lowell Baltierra (Season 1 - ) — Catelynn and her boyfriend Tyler gave up their firstborn daughter, Carly, for adoption during Season 1. The couple have since tied the knot and welcomed their second daughter, Novalee Reign, in 2015.
Amber Portwood (Season 1- ) — To say that Amber's relationship with her baby daddy Gary Shirley — they share daughter Leah — was tumultuous is an understatement. She was arrested for domestic violence against Gary in 2010, and was arrested again in 2011 for possession of drugs and failing to complete a rehab program. Amber was behind bars for one year before returning to the show. Today, Amber is a mother of two and in a relationship with Andrew Glennon.
Cheyenne Floyd (Season 7- ) — Hired to replace Farrah Abraham, The Challenge star joined the cast along with her baby daddy Cory Wharton and daughter Ryder. Fun fact: Cheyenne was never a teen mom. She had her child when she was 24.
Bristol Palin (Season 7) — Sarah Palin's daughter was also hired to fill in the gap left behind by Farrah Abraham. However, Bristol's stint on MTV was short-lived and she quit after one season.
The Teen Mom OG dads are still in the picture, too.
Only one of the original cast is still with their "first loves" — Catelynn and Tyler — but a couple of the dads remain a huge part of the MTV series.
Tyler Baltierra (Season 1- ) — Tyler has been by high school sweetheart turned wife Catelynn's side since Season 1. The father of two also started a clothing line called Tierra Reign, which was shut down in 2019.
Ryan Edwards (Season 1 - 7) — Ryan and Maci Bookout split following the birth of their son, Bentley. In 2017, he wed Mackenzie Edwards and the couple welcomed son Jagger in 2018. Ryan was fired from Teen Mom OG one year later reportedly due to drug abuse problems.
Gary Shirley (Season 1- ) — Gary has full custody of his daughter with Amber. And since his relationship with Amber, Gary has moved on and is now happily married to wife Kristina. The couple share a daughter, Emilee.
Teen Mom OG Salary:
How much do the stars of Teen Mom OG get paid? The cast has come a long way since Season 1. It has been reported that the current participants — not counting newcomers – make anywhere from $250,000 to $300,000 a season. Not too shabby for a bunch of "teen moms."
The dads make an estimated $25,000 per episode on their own.
Latest Teen Mom OG News and Updates