Joe Rogan Laughed at a Comment About Female Comedians and People Are Livid
People are calling to "cancel" Joe Rogan after several of the comedian's comments began circulating the internet. But what did he say this time?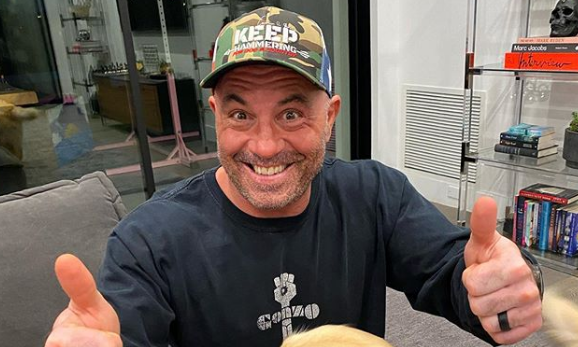 There are lots of people calling for the "cancelation" of Joe Rogan on the internet. It's not the first time, of course. But it seems the harsh reaction to the outspoken comedian, podcaster and UFC commentator appears to stem from recent comments he has made regarding wearing masks — as well as his response to fellow comic Joey Diaz's quip about allowing female entertainers to go on stage only if they gratified him sexually.
Article continues below advertisement
Why are people mad at Joe Rogan?
The longtime stand-up comic has grown his podcast audience considerably since it's Dec. 24, 2009 inception. His YouTube channel, PowerfulJRE has some 8.77 million subscribers, and features episode formats that are considered much too long by traditional web video standards — with many of his casts climbing over three hours per guest visit featuring largely unedited and uncensored long-form discussions.
His podcast hits nearly 200 million downloads per month, on average, which nets Joe about $75,000 per episode. He's had everyone from Maynard James Keenan, to Bill Burr, to Angela Hill, to Bernie Sanders on his program. The latter of which, resulted in huge amounts of controversy from both avowed conservative and liberal-minded viewers who tuned into the episode.
Article continues below advertisement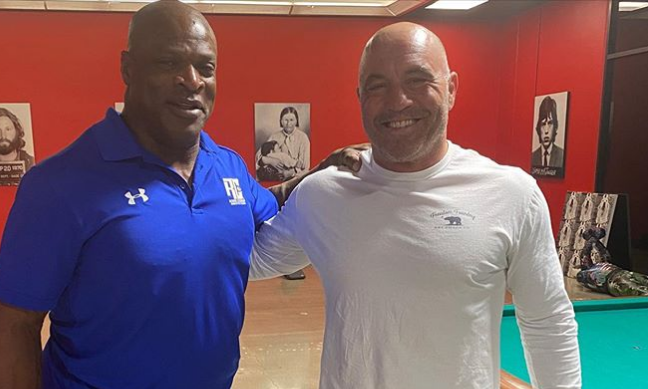 Some claimed they were "disappointed" to see Sanders on the program, as they viewed Rogan's podcast as parroting ideologies that die-hard Donald Trump supporters espouse and put up on a pedestal. Others were upset that Sanders would appear on a program from a host they believe promotes "toxic masculinity." For many, their ire was magnified when they discovered that Joe essentially endorsed Sanders as a presidential candidate.
Article continues below advertisement
People want to cancel Joe Rogan now over two recent comments on his podcast.
In episode #1,491 of his podcast, Joe had comedian Bill Bur on again and while the two exchanged jokes about current events. They discussed cars and helicopters, along with Bill's F is for Family Netflix show and Judd Apatow's King of Staten Island film. The topic of the coronavirus also came up, as did wearing masks.
Bill quipped that he didn't want to discuss the medical reasoning behind wearing a mask with Joe, as neither of them are doctors. He also joked about Joe's "manliness".
Article continues below advertisement
The "manliness" comment was geared toward a perceived slight Joe appeared to have made regarding "mask" wearing. Bill followed it up by saying that Joe was making fun of people wearing masks or that wearing one is now "soft." Joe added on that it's "for b*****s" and followed it up by saying "it's what men do, we make fun of ... things ... anything that ... seems like you're not taking chances."
Then, a recent video of Joe laughing at a comment made by comic Joey Diaz, aka, "Coco", also had several individuals expressing their displeasure online. The clip was taken from a 2011 episode of the Joe Rogan Experience, during which Coco said he wouldn't allow female comedians to go up on stage before him unless they performed oral sex on him.
Article continues below advertisement
"That's the gateway into coming to Hollywood, everybody knows that," Joey said. Joe followed up by saying, "How many girls did you have do that?" To which Coco responded, "Oh, 20." Joe then threw back his head and clapped his hands, laughing.
Many people are tweeting at Spotify, which just made a $100 million deal with Joe to stream his podcast on their platform, calling to boycott the popular music streaming app for doing business with Joe.
Article continues below advertisement
Others are asking women to "please speak up" if they indeed exchanged sexual favors with Joey Diaz for stage time, and that Joe's response to the fellow comic's admission should remove him from being "part of our political discourse."
Article continues below advertisement
Joe Rogan was also criticized for highlighting the fact that there are several conversations surrounding footage of DNC Presidential candidate Joe Biden's cognitive decline.
The comedian expressed shock that Biden's mental faculties were "completely ignored." Former Vice President Joe Biden came under fire for mistaking his wife for his sister, forgetting the name of President Barack Obama, and calling Bernie Sanders the president. There are several videos of Biden online that cut together clips of him speaking sentences many say are "nonsensical," like the one below.
Article continues below advertisement
Only time will tell if Joe Rogan's most recent transgressions will actually result in his getting "canceled." Considering his massive following, it doesn't seem likely, though.