Boyfriend's Family Invites Partner to Thanksgiving Dinner, Then Asks Them to Pay For It
A Redditor wanted to know if they were in the wrong for freaking out when their boyfriend's family asked them to pay for Thanksgiving dinner.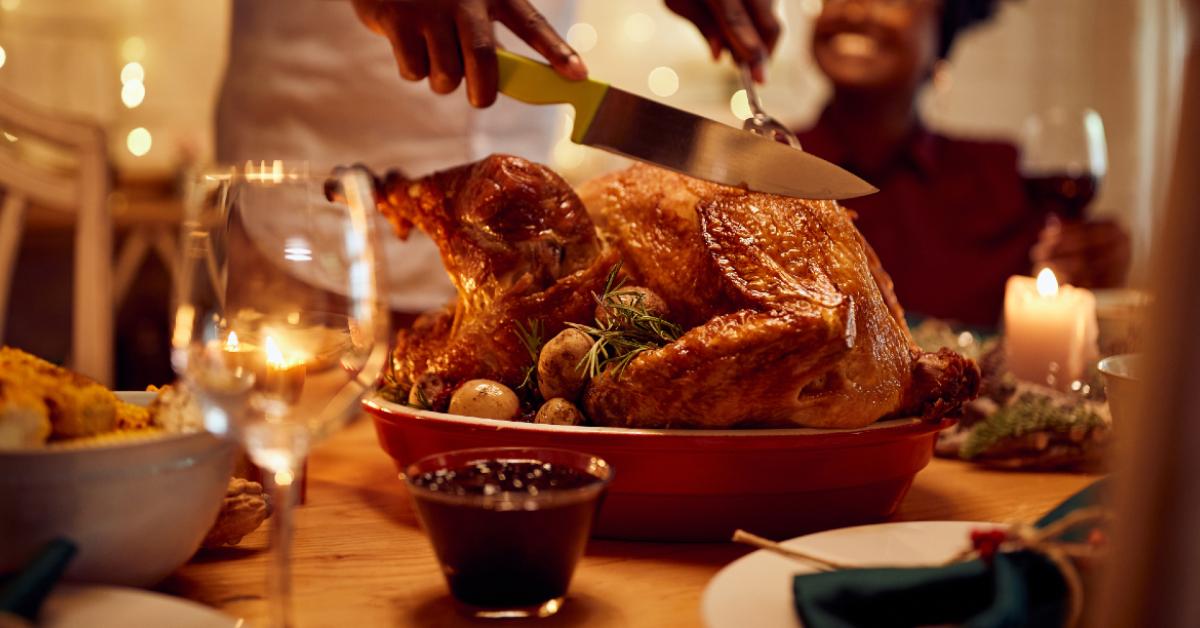 There are some universal qualities that many people just don't find attractive in others, such as a lack of cleanliness or personal hygiene. Lack of personal responsibility is yet another deficiency folks really can't stomach in a romantic partner. Of course, one of the biggest turn-offs is cheapness.
Article continues below advertisement
Plenty of think pieces online and personal blogs center on significant others who are so stingy, they become unattractive to their mate. In many cases of extreme frugality, the stinginess has less to do with saving money and more with underlying issues that are only manifesting themselves through their miserliness.
That may be what one Redditor encountered when they went to visit their boyfriend's family for Canadian Thanksgiving. In a post uploaded by a now-deleted user posting on the popular AITA ("Am I the A--hole?") sub, they wanted to know if they were in the wrong for leaving their boyfriend's family's house after they were asked to pay for their portion of the holiday meal.
Article continues below advertisement

From the get go, the interactions with their boyfriend's family seemed a bit weird. One of the first questions they asked shortly after picking them up from the airport was whether their son's partner had any drugs on them.
Article continues below advertisement

One might assume that maybe OP's boyfriend's parents just have a peculiar sense of humor and were attempting to crack a joke, but the behavior following that interaction demonstrated there was definitely something odd about the family on a much deeper level.
Article continues below advertisement

It appears that they are fairly strict and didn't want OP and their son to share a room together: OP's boyfriend was expected to stay in his old room while OP stayed in the family's guest room. They were then informed that the family expected them to chip in $30 for the Thanksgiving dinner.
Article continues below advertisement

OP was shocked to realize the boyfriend's family were entirely serious. While this was OP's first time meeting the boyfriend's parents, he had been to OP's parents' place a bunch of times, where never once did they ask him to chip in for any meal they served. The boyfriend replied that he would have obliged if he was asked, which only seemed to make matters worse.
Article continues below advertisement

The Redditor was so miffed, both at the parents and their boyfriend for defending the entry fee, OP decided to immediately abort the situation. They ended up booking a very expensive last-minute flight home to avoid being there any longer.
Article continues below advertisement

What's strange is that they also mentioned their boyfriend's family didn't appear to be hard up for money either; the $30 request seemed to be more of a strange moral statement they were trying to make than anything else.
Article continues below advertisement

Once the Redditor got back home, they talked about the debacle with their friends and asked if any of them had ever encountered a similar situation before, but the all agreed that the whole situation was kind of weird.
Other Reddit users echoed those sentiments, but told OP to look at the bright side: at least they were able to find out this information about their boyfriend sooner rather than later.
Article continues below advertisement

What do you think? Would you ever ask a guest you invited over for dinner to pay for a portion of their meal? Do you think it was right for OP to side with their parents on this issue? Have you ever been in a situation like this?