'Teen Mom 2': Kailyn Lowry and Vee Rivera Have COVID-19, but Are They Vaccinated?
'Teen Mom 2' star Kailyn Lowry announced that she and her boys all have COVID-19, in addition to Vee Rivera and Javi Marroquin. Were Kailyn and Vee vaccinated?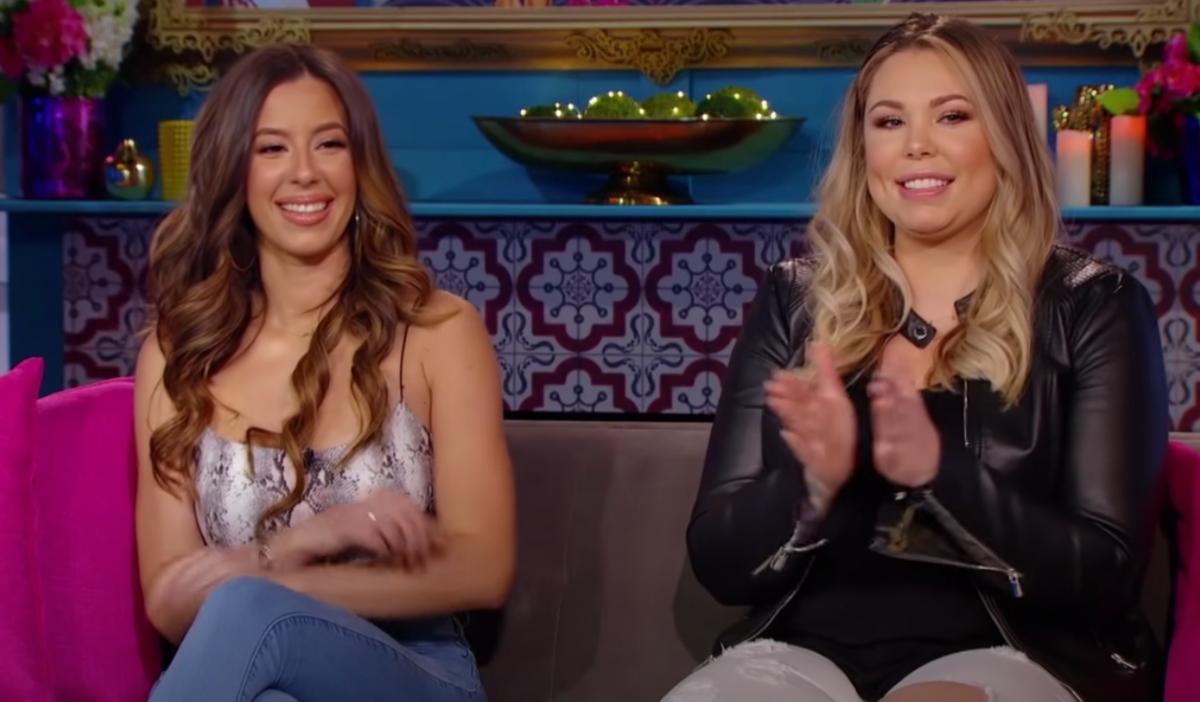 Usually, when Teen Mom 2 star Kailyn Lowry makes headlines, it's mainly about her baby daddies or beef with a certain Teen Mom cast member. However, the starlet is in the news this time because she recently announced on her podcast Baby Mamas No Drama that she and her co-host Vee tested positive for COVID-19. At the beginning of their episode she shared, "For those of you guys listening who don't know, Vee and I have COVID."
Article continues below advertisement
She explained, "I am so sorry. I think, honestly, we brought it home from the Dominican Republic." The MTV personality stated that she and her family tested negative while they were on vacation and again after returning. Kail also reiterated that she gets tested regularly by MTV in order to film the reality series but quickly started to feel like she had it. "I knew because I felt like s--t all week. Once I lost my taste and my smell, I knew what it was. I knew," she said.
Article continues below advertisement
Vee's first test actually came back negative, but then she lost her taste and smell and decided to get tested again. Her husband, Jo Rivera, and her daughter do not have the virus. However, all four of Kail's boys have it, in addition to her ex-husband Javi Marroquin. Now, many are curious about their vaccination status. Keep reading to find out if Kailyn and Vee were vaccinated.
Were Kailyn Lowry and Vee Rivera vaccinated?
It's unclear whether Kailyn Lowry is vaccinated. Although, back in 2020, she made headlines when a fan on Twitter asked her whether or not she would get a vaccine for her and the kids if one became readily available. Kailyn, who was pregnant with her son Creed Lowry-Lopez at the time, replied, "Absolutely not."
Article continues below advertisement
Interestingly, this is the second time Kailyn and her 11-year-old son, Isaac Rivera, have tested positive for COVID-19. She got it in 2020 after a trip to Iceland, and her son Lincoln had it in March of 2021 before catching it again.
Per Screen Rant, Vee recently took to her Instagram story to talk to fans about having COVID-19 and said she was feeling much better. She has been wearing a mask inside her home and staying clear of her husband and daughter.
Article continues below advertisement
The 29-year-old said, "I wanna be able to kiss my husband. I'm miserable." She also shared that losing her sense of smell and taste "is the worst" part of it all. But, she said, "I'm grateful that I don't have these crazy symptoms and didn't end up in the hospital. I am 100 percent vaccinated, so that could have helped me."
Kailyn Lowry went to Punta Cana with 'Teen Mom 2' co-star Leah Messer.
Fellow Teen Mom 2 star Leah Messer was also on that trip with Kailyn and her kids to the Dominican Republic but has yet to share with the public if she's tested positive for COVID-19. However, according to TooFab, Leah did make it clear on her Instagram story that she was vaccinated.
Hopefully, Leah doesn't have the virus, and we wish Kailyn, her boys, Javi, and Vee a speedy recovery.
Part 2 of the Teen Mom 2 reunion airs on Aug. 3 at 8 p.m. EST on MTV.