Chrisley Knows Best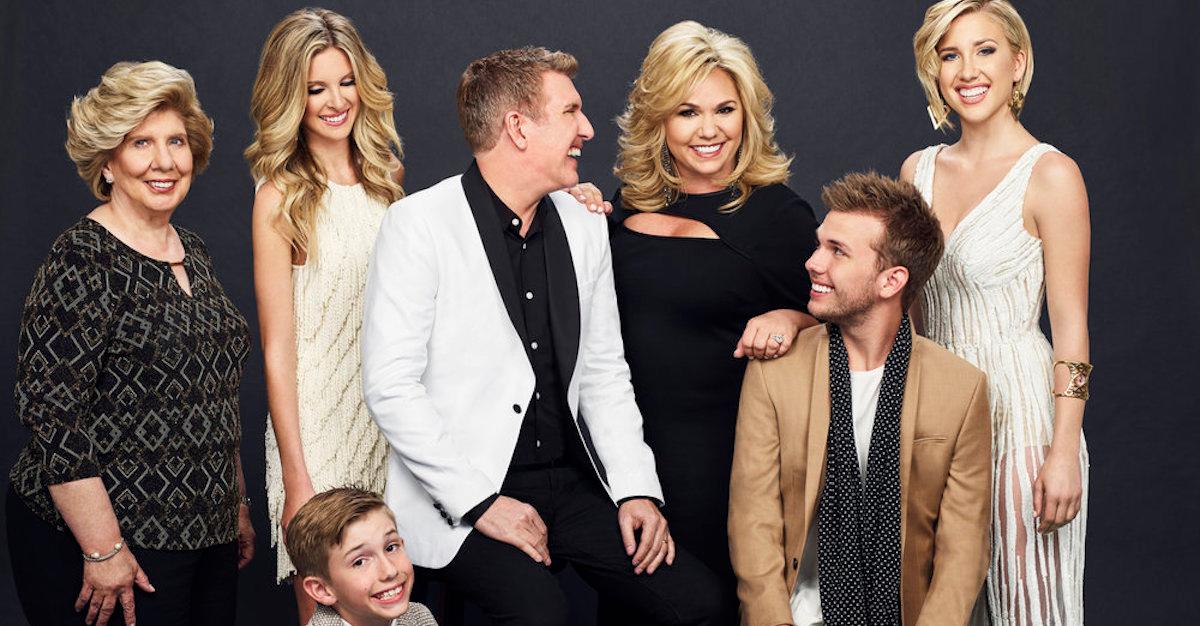 What is Chrisley Knows Best about?
The show follows the Chrisley family, including entrepreneur Todd, his wife Julie, and their three kids Chase, Savannah, and Grayson. In the early seasons of the show, Lindsie and Kyle Chrisley, Todd's two children from his first marriage, appeared.
When the reality series debuted in 2014, the Chrisley family was living in Georgia. During the fourth season, the family moved to Nashville, Tenn. so they could be near Savannah Chrisley as she attended college.
Todd's antics and his interference in his kids' lives are often plot points on the show.
His mother, Faye Chrisley, and his granddaughter, Chloe Chrisley, are also frequently featured on Chrisley Knows Best.
Who is in the Chrisley Knows Best cast?
It's all about family when it comes to the Chrisley Knows Best cast, though there's no shortage of drama.
Todd Chrisley — When the show began, the father of five was working on opening a luxury clothing store. He had originally made his money in real estate, but he's now focused solely on the show and his podcast, "Chrisley Confessions." He is the son of Faye and Gene Chrisley, the latter of whom passed away in 2012.
Julie Chrisley — She is Todd's second wife, and the two tied the knot in 1996. Aside from dealing with Todd's antics, Julie is a breast cancer survivor and she co-hosts the podcast with her husband.
Chase Chrisley — When the show began, Chase was still in high school, and he was focused on dating girls and making easy money. He's in a relationship with Emmy Medders. Chase also starred on the spinoff series Growing Up Chrisley.
Savannah Chrisley — As Todd's youngest daughter, Savannah faced the pressures of living up to her father's expectations. She competed in pageants during the show's early seasons, and she attended Lipscomb University. She got engaged to former ice hockey player Nic Kerdiles in 2019, but the two have since pumped the brakes on their relationship.
Grayson Chrisley — Born in 2006, Grayson is the youngest son of Todd and Julie.
Chloe Chrisley — The seven-year-old is Todd's only granddaughter, and she lives with him full-time.
Faye Chrisley — Though she's in her mid-70s, Faye is young at heart. She's dabbled in some online dating on the show, much to the chagrin of her son. She followed her family when they moved to Tennessee. Faye is also the mom of Randy Chrisley.
Kyle Chrisley — Todd's son from his previous marriage has struggled with addiction and his mental health, and he no longer appears on the show. He reconciled with Todd in 2019, and he had an overdose that same year.
Lindsie Chrisley Campbell — Lindsie is Todd's eldest child, from his marriage to Teresa Terry. She and her famous father are currently estranged, and she has not appeared on the show since 2017. In 2019, she alleged that Todd and Chase tried to extort her over the existence of extramarital sex tapes with Bachelor stars Josh Murray and Robby Hayes. She is married to Will Campbell, and the two have a son named Jackson together.
Nic Kerdiles — The status of Nic's relationship with Savannah is TBD, though he has been a fixture on more recent seasons of the show. The two are figuring out the future of their engagement, and they postponed their 2020 wedding indefinitely.
Who is Chloe from Chrisley Knows Best, and why does Todd have custody of her?
Chloe is Kyle's daughter from a previous relationship with Angela Johnson, and she was first introduced to the series during Season 1. She was born in 2012, and she began living with Todd and Julie a few years later following her father's struggles with addiction. While Todd and Julie initially shared custody with Angela, she was arrested in 2016 for declaring Chloe as a dependent in order to try to get Medicaid and food stamps. Following her arrest, Todd and Julie were given sole custody of Chloe.
Todd and Kyle were estranged for several years, but they reconciled in 2019.
Now seven years old, Chloe is a fixture on Chrisley Knows Best, and she's certainly inherited some of her grandfather's signature wit.
Is Chrisley Knows Best scripted?
The way that Todd delivers his one-liners has many viewers convinced that the show can't possibly be real. In an interview with Southern Living, Todd shut the haters down and assured the public that he truly does speak in witty quips.
"I am a son of the South," he said before adding, "I've had so many people say to me over the course of my life in rearing my children – 'You guys do things differently in the South. You're a little slower.' And I say, 'We are a little slower. And we take the time to tell our children why we're going to smack their a--.'"
But, an inside source told Radar Online in 2017 that writers are hired to work on the show.
"More than half of the dialogue on the show is scripted and a large majority of the scenes are re-shot when they are not as funny as he wants them to be," the source said.
With any reality series, there will always be doubts about how "real" it actually is.
Is Todd Chrisley going to jail?
In June 2022, Todd and his wife Julie were found guilty on federal charges of bank fraud and tax evasion. The couple was remanded to house arrest until their sentencing date. They are facing a maximum of 30 years behind bars and millions in fines. However, Todd and Julie filed a motion for a new trial in August 2022.
Where can you watch full episodes of Chrisley Knows Best?
Those who have a cable subscription are in luck, as old seasons of Chrisley Knows Best can be streamed on USANetwork.com. Those without a traditional cable package can watch the show on Hulu.
Season 8 of the hit reality series is airing on Thursdays at 9 p.m. on USA.
Latest Chrisley Knows Best News and Updates